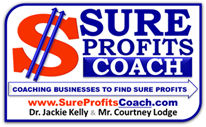 ABOUT THE AUTHORS
MR. COURTNEY LODGE, MBA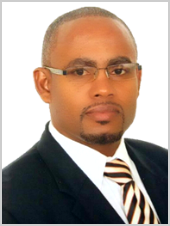 Mr. Courtney Lodge is a Business Transformation Consultant, Personal Mastery Life Coach, Motivational Speaker, Trainer, Entrepreneur, Author, Banker, and Real Estate Developer.
He is the Co-founder, CEO and a Master Coach at $URE PROFITS Coach (www.SureProfitsCoach.com) where he is "Coaching Businesses to Find $URE PROFITS".
Mr. Lodge served as:
CEO of the Caribbean Confederation of Credit Unions (CCCU) where he led the strategic development and positioning of over 342 credit unions (all of which are small and medium-sized enterprises) and their 18 leagues in 18 Caribbean countries. This assignment also saw Mr. Lodge consulting with several small, medium and large businesses.  He, for example, consulted in Suriname and Jamaica for the Inter-American Development Bank (IDB) on small business development training and facilitation.
General Manager of Microfinance at the Development Bank of Jamaica, DBJ, where he secured funding of over One Billion Dollars from the European Investment Bank to on-lend to thousands of entrepreneurs through microfinance institutions.
CEO of the GSB Credit Union (now FHC Credit Union), where he and his team implemented a 9.58% mortgage product to match Usain Bolt's 100 metres world record of 9.58 seconds.  This product effectively transformed the mortgage landscape which was stuck for over 2 decades with interest rates of 14% up to 24%. Now, all mortgage lenders are below 8.5%.
Vice President of Branch Distribution / Sales for the Victoria Mutual Building Society's branches in Jamaica, USA, UK, and Canada.  He implemented the Regional Business Development and Sales teams and several projects that were piloted through branches.
Branch Manager, Board Member (staff director) and Licensed Securities Dealer Representative of the now JN Bank (formerly JN Building Society) Group;
a Deputy Superintendent of Police (DSP) with the Jamaica Constabulary Force (JCF), and served in Germany with the Bundeskriminalamt, BKA – the German FBI equivalent. He worked in the areas of anti- transnational organized crime, white collar crime, money laundering, and criminal gang enterprises. This was the birth of his career at age 17.
This international businessman has worked, studied or vacationed in over 42 countries on 4 Continents:--
In India: Mr. Lodge was a facilitator on a Commonwealth Secretariat initiative for Small Business Development.
In South Africa, Swaziland and Zambia: He consulted with a firm to establish credit unions in these countries.
In the United States of America, he worked as a computer specialist and biodiversity researcher in the International Relations department of the Smithsonian Institution.  He has consulted with numerous entities, including consultation through his collaboration with the A2F (Access to Finance) consultancy that is based in Maryland, USA, and Frankfurt, Germany.
As an entrepreneur, Mr. Lodge and his team founded and operated a business transformation consulting firm, Strategic Corporate Interventions, SCI, Limited. The team provided mainly strategic planning development for entities with products such as BizBirth, BizGrow, and BizShine.  Their Meet the Ministers and Prime Ministers breakfast workshop hosted 4 Caribbean (Jamaica, Barbados, Trinidad, and St. Kitts & Nevis) Prime Ministers and 11 government ministers.
He has served / is serving on the board of directors of numbers government (cabinet appointed) and private entities, including: JN Bank (then, JNBS), GSB Credit Union, the Creative Productions and Training Centre (CPTC), the Media Training Institute (MTI), the Jamaica Paralympic Association (JPA), the Tacky High School, the Wolmer's Boys School Board Committee, and A&N Loan Hub.
Mr. Lodge is trained in SME Financing by the International Labour Organization and the Caribbean Development Bank.  He holds an MBA from the Nova Southeastern University (Florida), a Bachelor's degree in Business Economics and Finance from the University of the District of Columbia (Washington, DC), and is currently pursuing a PhD in Holistic Lifestyle Coaching from the University of Sedona (Arizona). 
He is the author of two previous books: Personal Mastery – Maximize Your Potential …Now!, and Lives of a Soul – a Metaphysical Autobiography of Your Soul…and Mine!
Mr. Lodge is married, and has five children--Anika, Tionna, Britoni, Britani, and Sebastian--and four grandchildren—Damani, Kyle, Khyrie, Seanaya!